In the early morning talks, Swamiji beautifully cleared the misconception held by many that only the good people suffer! He elaborated the opposite as being a fact – that it's only the good people who really enjoy life! He went on to add that only a good person gets love, respect and affection from everyone around him.

Boat ride on Narmada Mātā
That morning, before breakfast, Sachidananda annā kindly enquired with me if I would be interested to go on a boat ride. I immediately agreed and mentioned that a few others were also interested. Post breakfast, annā then gathered and led our well sized group of about 15-20 people towards Somnath ghat. Kirit bhai had helped to arrange the boatman to come there instead of Kuber Bhandari ghat (the usual pickup spot of boatmen), considering one aged ammā couldn't walk down the steep steps of the latter. After annā spoke to the boatman, we all got into the boat to begin our journey. It was a very soothing experience for us, as we glided in the lap of Narmada mātā towards the Kuber Bhandari ghat, followed by the famous peepal tree and Modi guphā (where PM Narendra Modiji had apparently hidden himself during the emergency). We then took an about turn and proceeded towards Triveṇi saṁgama up to a point, before the boatman finally dropped us at the starting point. Everyone enjoyed the trip to their heart's content and thanked annā for his sevā to arrange everything for us so well!

Bhū Devī and the Farmer
Post the noon talks and Guru-pādukā pūjā, the anna-dāna sevā kartā had brought dry fruits – to be distributed as prasāda. They were put in a small bowl, and I started distributing them to all. Asmita didi carrying a big container of the same followed me. Whenever I ran out of dry fruits, she would immediately refill my bowl from the big container, and I would then continue with the distribution. I playfully remarked to her that she is like Bhū-devī (goddess Earth), who has almost unlimited resources to replenish us with, while I was like a farmer – simply taking from Bhū-devī and then giving it to the people around me!
During lunch that day, I was seated on the stone benches along the wall of the Annakṣetra, where many of the blue bags given to us during the inauguration function, were scattered all around me. I saw one aged ammā unable to find a place to sit on the stool by the table. This was my first meeting with Mahalakshmi ammā. I called her and made some space for her and her friend to sit near me. I was pleasantly surprised to see her large heartedness to bless me without asking and her ever cheerful attitude.

Visit to the famous Peepal tree of Karnali
Post lunch, I happened to meet Sachidananda annā again, who said that he planned to visit the Peepal tree – which had now become famous in Karnali, where Vinod ji's Guru Śrī Shantvan ji Mahārāj had done his Sādhanā. I had heard a lot about this place and was eager to go there (but didn't know the route) and Bhagavan had now sent him along with Balakrishna annā to show me the way! Before we started out from SK, Sachidananda annā suggested to have sugarcane juice at the entrance of Kuber Bhandari temple. Upon quenching our thirst with tasty sugarcane juice and making our way outside, we saw a dog sitting almost in the middle of the road and one aged ammā beating it lightly with a stick!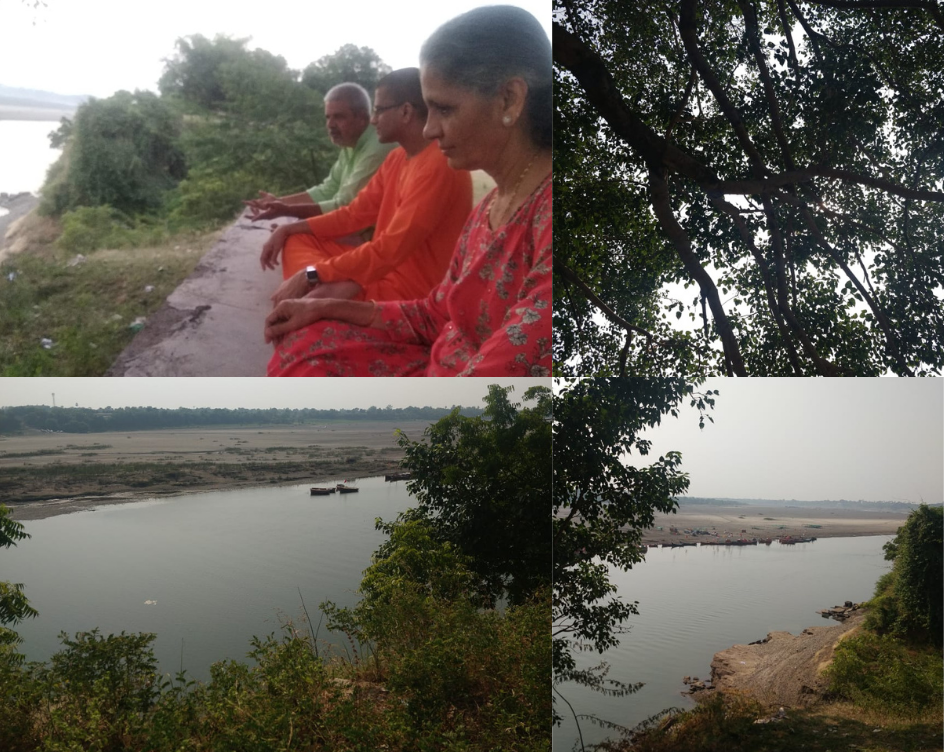 Thoughts of a mother disciplining her child, when it doesn't listen to her and the same mother later nurturing it, rushed to my mind – as I kept watching. But Sachidananda annā saw it differently and immediately asked her not to beat the poor dog – his heart being filled with compassion for it. The dog finally got up and slowly limped away, with two of its legs dangling by its side unused! At that time, seeing the condition of that poor dog, Rajesh bhai said something beautiful. He said we should consider ourselves really fortunate and thank God to have given us a human life with good health! He asked us to notice how that dog must be suffering constantly, in that diseased animal body!
We were joined by few other sādhaks and after a good walk along a winding path, we reached the most discussed Peepal tree – a large tree, with its branches spread majestically and with a concrete sitting area built around it. I found it to be a very serene place – charged with spiritual vibration! Sitting under the tree, I met Savitha ammā for the first time, as she talked about the Sagar Mission centre in Karnataka and her desire to invite Swamiji there. She mentioned that Sagar was filled with knowledgeable but kind pandits, who happened to correct anyone who said anything contradictory about our scriptures. She then said something which immediately caught my attention – she said that she had witnessed the live talks of Pūjya Śrī Siddheshwara Swamiji. I had only heard about this Mahātmā, who is so humble that despite being a Sannyāsī, he refuses to wear ochre coloured robes and is instead always dressed in all white. He is known to draw eager crowds numbering thousands, in huge open grounds that throng for his early morning spiritual talks. She said that she would share the talks of Swamiji, which was a great help for me. Later, I witnessed her deep humility in a game we played – despite her having a good amount of God-given scriptural knowledge.

Taking the first dip in Narmada Mātā near Triveṇi Saṅgam
On our way back, Sachidananda annā suddenly mentioned that he was taking a dip in Narmada Mātā every day, with MM Bhaktaji. A desire for the same arose in my mind – as swimming was one of my long-cherished hobbies. But I was not used to swimming in rivers and was a bit apprehensive about it, as I had heard stories of unseen undercurrents sweeping away many an unsuspecting bather! I said that I wished to visit Triveṇi Saṅgam and take a bath there, but annā said we could go instead to Somnath ghat that day and visit Saṅgam some other day – since we had heard that it was quite far by walk from Gita Mandir. I agreed without thinking much and said I would join him that day.
After the early evening talk at Gita Mandir, I came to know that annā had already proceeded along with Bhakta ji to the river, down by the Somnath ghat. Rajesh bhai and I were just about to head in that direction, when for some unexpected reason, Priyanka didi came to meet us. She was excitedly talking about her great experience at the Triveṇi Saṅgam the other day and some of the beautiful temples along the way. She directed me to go there instead, adding that it wasn't far away from Gita Mandir. This prospect somehow excited me more and I immediately proceeded towards the Saṅgam, alongside Rajesh bhai – who was also eager to visit it. But to our dismay, we found that the previous day being Kārtika Pūrṇimā, a lot of devotees had gathered at the Saṅgam for pūjā and had insensitively left behind a whole lot of trash – of plastic and used clothes, lying on the riverbank! It really pained my heart to see Mother Narmada being thus polluted – but there was too much trash for us all around to remove and without a dustbin in sight anywhere. Wading our way around the trash beside the riverbank and seeing the clear waters of Narmada Mātā up close, gave some lost peace back to my heart! Seeing that it may be dangerous to bathe directly in the Saṅgam, we instead entered the water in a shallow and safe place and then took a dip there. Even there the current was so strong that it was capable of sweeping a person away if he simply sat in the water unsupported!

The hapless Donkey
While returning, I suddenly remembered that I hadn't kept my word to annā of taking a dip with him that day! This pained my heart, as I had always tried my best to keep my word given to anyone. As we were walking back from the riverbank, I saw the same group of donkeys seen the other morning, now simply standing in line side by side and with their master nowhere in sight. It was a funny sight to us, as I exclaimed to Rajesh bhai that I remembered seeing these same donkeys being made to work hard, during my morning walk earlier. As we approached the group, Rajesh bhai's keen eyes spotted one of the donkeys lying down completely on one side – almost motionless! Seeing this, I exclaimed, "Hoofed animals never lie down completely until their end is very near." Rajesh bhai asked me if it was dead! But upon looking closely, we saw that all the donkeys had been tied to each other at their necks! However, this particular donkey was struggling with the rope which had somehow tightened around its neck and was helplessly lying down – probably to release the tension in the rope and had presently, moved slightly at one angle for some relief.
We immediately started looking around for their keeper, but couldn't find anyone else near them. For a moment I thought aloud, 'Should we try ourselves to unwind that rope?', but I was a bit scared to approach a group of strange donkeys – without knowing a thing about how to handle them! We then quickly made our way up the ghat and I was wondering aloud to Rajesh bhai on how to enquire about this keeper of donkeys in Hindi to the locals: "Do we call him Gadhon kā sardār (leader of donkeys)! or maybe Gadhon kā mālik (master of donkeys)!?" Both sounded a bit odd, but quite funny! We finally found a couple of locals and enquired about the Gadhon ko sambhālnevālā (person who took care of donkeys), as I finally found the right phrase! They mentioned that they knew the fellow and he lived at some distance from there and added that they also had his phone number. We asked them to call him up immediately and inform him about the predicament of his donkey and to hurry, else the donkey might be fatally injured soon! They were wise to understand and immediately went on their way to give him a call. Having done our bit, we then proceeded onward, towards Gita Mandir for the late evening talks. The earlier pain in my heart of not having kept my word to annā suddenly disappeared, as I intuitively realised that it was God's will that we visit Triveṇi Saṅgam that evening – to relieve the misery of a poor hapless donkey! But I was never able to take a swim in Narmada Mātā again during that entire trip – perhaps the merciful Mātā thought, this was best for her little child!


Meeting some more great devotees of Karnali
I somehow lost my blue bag and notebook after the evening class. I remembered all the hard work spent in taking down the notes from Swamiji's talks, to refer to later. But my inner voice calmed me, by saying that it would be returned to me soon. I came back to SK, where after dinner, I was reminded to bring back the tea flask taken in the morning – one which I had forgotten to retrieve from Reva Guest House. On my way back with the flask, I saw some very poor aged women in ragged clothes, sitting in front of the closed shop next to SK. There were about four of them and they were kind-heartedly sharing their food with each other. When I looked at them, one of the women looking at the flask in my hands, asked me if I had some chhās (butter milk). I regretfully said I didn't have any and that the flask contained tea which was very old, being prepared in the morning. Listening to me, she immediately asked me if I would like to share their dinner with them! I was truly touched by the kindness of these women who seemed to have nothing in this world, but their dinner and they were ready to share even that! I humbly said that I had already had my dinner, thanked them and then proceeded inside SK.

A selfish Mistake
For the first few days, I hadn't observed that Nayana akkā was silently doing the sevā of capturing beautiful photos and videos of the camp. I had just seen her once or twice taking some photos and thought she was doing it just for her memorial purpose. Akkā approached me that evening and asked if I could help to take some photos/ videos, during the Yoga class early in the morning which she wasn't attending. Earlier, I had initially agreed when Sumanth ji asked me the same in front of her, with an understanding that it would only be a few photos for memorial purpose. But when she elaborated to me it was not just for that, but I actually needed to capture short tutorial videos of each exercise being taught- this caught me by surprise! I have been a fitness enthusiast for quite some time and was thoroughly enjoying doing the morning yoga exercises, being taught there. When I came to know that by capturing these videos, I would end up missing that day's class altogether, a hint of selfishness emerged in me and I refused to help – saying that even I desired to do the exercises along with others and would miss out on it, if I spent time taking videos! Akkā's disappointment was visible on her face, but she didn't say a word to me. As I found out later, she silently continued doing her sevā and was present early the next morning, to capture the tutorial videos. Unknown to me, my behaviour may have displeased Bhagavān, who always listens to all happenings – as Swamiji says, "He is like a CCTV camera which is turned on twenty-four hours a day and which has unlimited memory and power supply!" Though I didn't realise it immediately, this incident had caused some unknown disturbance in my mind, which I somehow missed to notice – as I didn't spend any time that night on the valuable daily practice of introspection!
Read More…
Prev: Day 2
Top: Sadhana Camp 2022